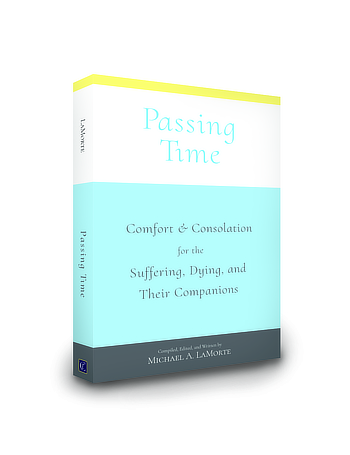 "What do you do when you run out of prayers, or when you know you should be praying but you can no longer find the words?"
Have we forgotten how to die? Have we forgotten that we are dust, and to dust we shall return? With the advances in modern medicine, too often doctors and nurses and machines have replaced reflection, prayer, family, and clergy. For many, they are left not knowing what to do when a life is coming to an end, whether its their own life or the life of a loved one.
The end of life is a time of passing that only happens once, and it is as unique as the life that was lived. For those who are suffering, dying, as well as those who attend to them, this is a time that can be very difficult.
Passing Time is a treasury of over 300 pages of classical Catholic texts to help people who are going through this time of life. Divided into four sections—Suffering, the Hour of Death, Mourning & Burial, and Purgatory & Remembrance—it includes catechesis, meditations, and prayers from the saints, as well as traditions from the depth of the faith. It is meant to be a companion that can help the afflicted and their loved ones stand on the foundations of their Catholic faith so that they may prepare for a happy death, and find comfort and peace in their time of troubles.
Beautifully designed and thoughtfully curated, Passing Time contains catechesis from Rev. Frances Spirago's The Catechism Explained, an abridged version of Why Must I Suffer? by Rev. F.J. Remler C.M., a selection of St. Alphonses de Liguori's Considerations on Eternal Maxims, St. Catherine of Genoa's "Treatise on Purgatory", and the all-new Rosary meditation: "The Sorrowful Mysteries of the Agonizing Heart of Jesus". It also has a number of prayers, litanies, and novenas, including the prayers of the last Sacrament, the Recommendation of a Departing Soul, Gathering in the Presence of the Body, Reflections at the Grave, the Litany and Chaplet for the Dead, and Litany of Prayers for the Holy Souls in Purgatory.